As dangerous heatwaves and wildfires blister the globe this summer, Pope Francis has called for bolder actions from nations at two major international environment summits later this year, and for all people to "repent and modify our lifestyles and destructive systems" in a collective effort to rein in climate change and save ecosystems and people on a planet he said is reaching "a breaking point."
In his message for the upcoming monthlong Season of Creation, the pope proposed that an ecological conversion must occur not only among individuals but within "the community of nations," with particular attention to United Nations conferences focused on addressing climate change and rapid biodiversity loss.
The message was introduced Thursday at a press conference at the Vatican, where Cardinal Michael Czerny, head of the Dicastery for Promoting Integral Human Development, lent support to the proposed Fossil Fuel Non-Proliferation Treaty, which has garnered growing attention as an avenue for nations to bring a rapid end to the age of fossil fuels.
While countries under the Paris Agreement agreed to work to limit average global temperature rise to 1.5 degrees Celsius, the planet has already heated at least 1.1 C since preindustrial times, Czerny said, and "new fossil fuel projects every day accelerate our race towards the precipice. Enough is enough."
"All new exploration and production of coal, oil, and gas must immediately end, and existing production of fossil fuels must be urgently phased out," the cardinal said, adding that such a phase-out be done in a just transition that takes care of impacted workers and communities.
Those three positions form the pillars of the proposed Fossil Fuel Non-Proliferation Treaty, which Czerny said "holds great promise to complement and enhance the Paris Agreement."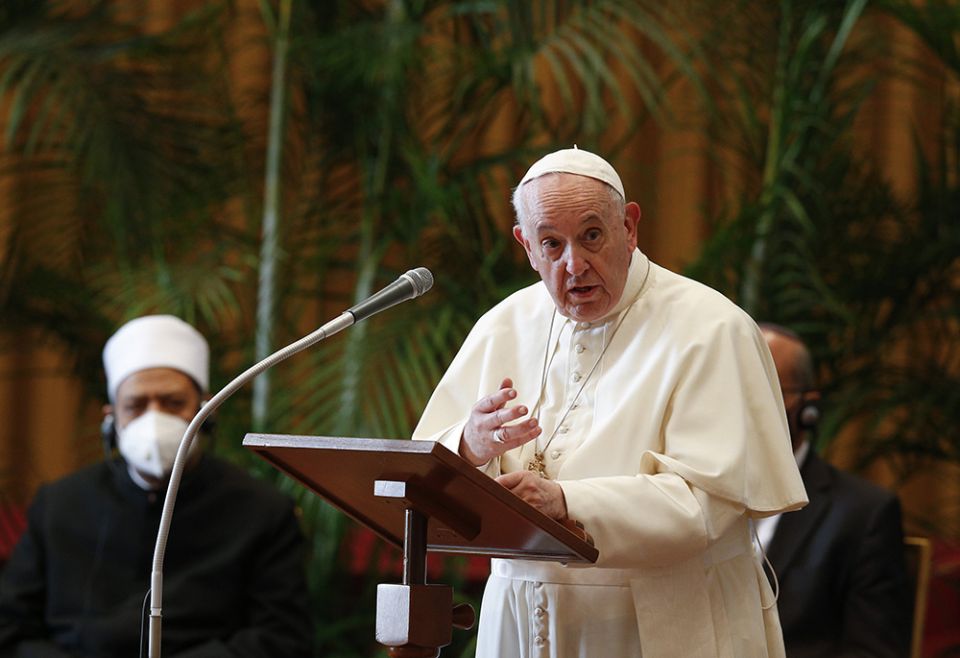 Pope Francis addresses the meeting, "Faith and Science: Towards COP26," with religious leaders in the Hall of Benedictions at the Vatican in this Oct. 4, 2021, file photo. (CNS/Paul Haring)
Advocates of the treaty estimate that coal, oil and gas are responsible for 86% of carbon emissions in the last decade, and say that countries are on pace to use double the amount of fossil fuels that would be allowable to still hold temperature rise to 1.5 C by 2030.
Tzeporah Berman, a Canadian environmental activist and chair of the initiative behind the Fossil Fuel Non-Proliferation Treaty, welcomed the support of a Vatican official, saying in a statement "What is needed now is moral courage. … Expansion of fossil fuel production magnifies the climate crisis but also undermines all of the living systems that are core to our survival."
In his message, Francis called the 1.5 C Paris goal "quite demanding," and said that meeting it requires countries to work together to reach net-zero greenhouse gas emissions "as quickly as possible," including through more ambitious climate plans at COP27, the U.N. climate conference in November. It's expected the Vatican will look to play a larger role in those proceedings after it recently announced it has formally joined the Paris Agreement and the U.N. Framework Convention on Climate Change.
"The present state of decay of our common home merits the same attention as other global challenges such as grave health crises and wars," Francis said.
Solutions to climate change, from changing modes of consumption and production as well as lifestyles, present a "need for a covenant between human beings and the environment," he continued, and repeated a call for extractive industries to end practices that destroy ecosystems, threaten biodiversity and harm communities.
"It is necessary for all of us to act decisively. For we are reaching 'a breaking point,' " the pope said.